Mastering the rapid transition of technologies in combination with individual use cases within the company – that is the principle behind the 'TotalDigital' eco system from QRelation Management Team GmbH.
Read the whole press release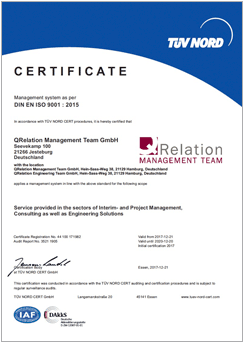 Service provided in the sectors of Interim- and Project Management, Consulting as well as Engineering Solutions
Jesteburg, 28 January 2020
On 1 January 2020, the successful takeover of GMA Engineering GmbH by QRelation Management Team GmbH took place. QRelation thus successfully continues its expansion policy!
QRelation Management supports
twice a year the production of colouring books for pedagogical, educational support
once a year sponsor for the sports club SV Bendestorf
Fact Sheets
More information about our services