Partner for Business Challenges
agile. digital. phenomenal.
Project partner for business challenges
Generate real opportunities from business challenges that are difficult to solve!
When the necessary resources required for specific situations or special projects are unavailable within your company, QRelation will help turn the situation into a genuine opportunity.
Together with you we develop concepts and measures. We also do not leave you alone with the implementation. Our management specialists with longstanding experience in various industries earn their daily bread tackling problems, resolving conflicts and by becoming immediately entrenched in operational implementation processes.
agile.
We execute the projects agile. The project plan is adapted to the results and barriers by our experts and methods.

digital.
For all projects we use the right DATA and tool support.

phenomenal.
At the end of the implementation, we work consistently on the transfer of the topics to the client organisation.

Aerospace, energy industry, automotive, logistics or even personnel consulting
What we can do for you
Even after the many successful management projects in recent years, our commitment to you is never regarded as merely routine or an interim solution.
QRelation managers are immediately integrated within your business. Our managers have deep knowledge at top management and expert levels in the business segments:
Programme and Project Management

Production / Engineering

Management

Marketing / Sales

Purchasing / Logistics

Controlling

Human Resources
Surf the digital transformation wave now!
Would you like to know how your company benefits from the digitalisation of supply chain, production, maintenance and service? Then we can help you confidently with our TotalDigital  management product!
Then rely on the broad experience of our subsidiary QRelation Engineering Team GmbH: Benefit from the integrated development competence in the aviation, medical technology, plant engineering and shipbuilding industries. In addition to development, design and calculation, the comprehensive range of services includes production-related engineering services such as production monitoring, testing and initial operation as well as the certification of the solutions.
How we achieve your project objective
The aim is to develop a sustainable project solution according to a coordinated vision! We achieve this together in a few "sprints" in a fast and transparent way.
01

Meeting
You take us on board based on mutual trust and inform us of the initial situation.
02

Offer
You receive our offer with detailed explanations of the targeted business solution.
03

Order
Great! Now the analysis on site follows, basis for the preparation of the measure catalogue.
04

Implementation

Our experts now implement the measures agreed with you on site in sprints.
05

Follow-Up

The effectiveness is continuously monitored. During the follow-up, additional instruments may be applied.
06

Project Objective

In a short time we have reached the goal together. Handover takes place as part of the final project review.
This team carries out your task
Place your project implementation with our experts on an extremely experience-based and practice-proven base!
40+ permanently employed cross-sector specialists for quality management and production support along the entire product development process.

25+ QRelation partners are all experienced in interim and project management. Each of them has many years of professional experience and very special expertise.
200+ experts from partner companies with which we co-operate on a topic-related basis, who are successful in their specialist field and who have the same quality standards as we do.
Since our external specialists are neither integrated into the hierarchies nor the internal company policy of the customer, the exclusive focus on the project to be handled is automatically guaranteed. Let QRelation develop your own solution and leave your own managers with their important core tasks.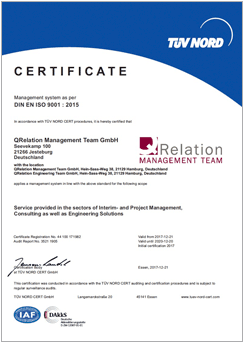 Certified according to DIN EN ISO 9001
Talk to us about your individual management solution
Please simply contact us. We will get back to you!